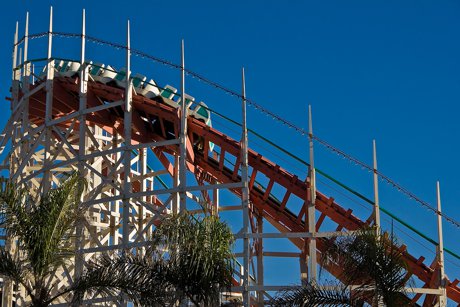 History collides with modernity on San Diego real estate. Charming amusements of the olden days combine with the thrills and chills offered by current theme parks. Constructed alongside the city of San Diego, Belmont Park, then called the Mission Beach Amusement Center, was designed to become a social hub. And as a gathering place it grew onward with the city. Today traditional rides and structures pay tribute to the roots first dug deeply in 1925.
Generations have shared the memory of fresh air swirling through windblown hair amidst shrieks and screams of exhilaration on The Big Dipper roller coaster. Earning status of a historic landmark this energizing and renovated ride still has lines forming for it today. The Plunge Swimming Pool is the second remaining piece of the past on this San Diego property. Once the largest indoor pool in the state, it is still an impressive aquatic masterpiece.
San Diego Property Stays True
Many dream of the good old days and simpler forms of enjoyment. In addition to those, the bells and whistles appealing to today's youth also run rampant at Belmont Park. Friendly competitors refuse to call a cease fire during bouts of laser tag. Extreme mental challenge awaits in Escapology escape rooms. Movies are bigger than life in the Xanadu 7D interactive theater. Rock climbing walls, mini golf and arcade games round out the diversions.
Staying true to its original mission, the San Diego property boasts a lively dining atmosphere and nightlife. Eye-catching eateries dot the boardwalk offering tasty tidbits such as ice cream at The Sweet Shop and Beach Treats and tacos at El Jefe. The gang gathers at Draft to see what's on tap. With over 60 brews to choose it may take a while to decide. Toasts are also raised during lunch at the Beach House Grill.
Families feeling the need for some lighthearted fun head to Belmont Park. It's also a great place for friends to meet and a stress free destination for first dates. San Diego sunsets add a spark of romance for couples living in So Cal as the boardwalk flows over with merriment. Come join in!